"Educating Today for Tomorrow"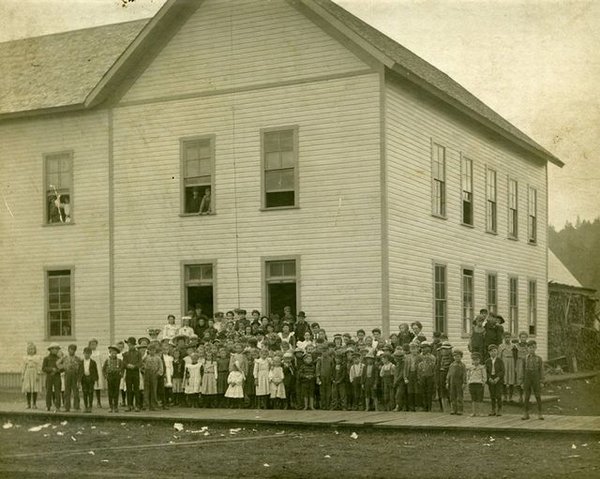 picture from: http://jtenlen.drizzlehosting.com/walewis/photos.html
The Pe Ell School District currently serves around 300 students from preschool to high school supported by about 40 staff. A brief history of the district follows.

While there is a picture of a rugged Pe Ell school house from around 1900, the first firm records show a consolidation of the Walville, Jones Creek, and Pe Ell School Districts in 1912 to form one school district. Around the same time, The Elk Creek School District and the Doty School District combined to form one district.

The Central School was built in 1913 and was located next to Evey's cafe on the lot bordered Pe Ell Ave, 1st Street, and 7th Avenue. The Ag shop was added in 1937 and currently houses the Pe Ell Methodist Church. The old gymnasium is the VFW hall.

The Doty and Dryad School Districts consolidated into the Pe Ell District in 1944.

Former students remember carrying their chairs from the old school to the current one in 1952. The 1953-54 year book shows continued construction of the gym in that year. A remodel in 1993 and the construction of 2006 bring us to the building we have today.


Pe Ell School District may not discriminate on the basis of sex, race, color, creed, religion, national origin, age, disability, marital status, sexual orientation, gender identity and expression, veteran or military status, or the use of a service animal by a person with a disability, and must provide equal access to all designated youth groups. For questions or complaints, please contact Pe Ell School District's Equity and Civil Rights Office at PO Box 368, Pe Ell, WA 98572 or at (360)291-3244, Compliance Officer, Kyle MacDonald, kmacdonald@peell.k12.wa.us; Title IX Officer, Keith Shepherd, kshepherd@peell.k12.wa.us; and 504 Coordinator, Kyle MacDonald, kmacdonald@peell.k12.wa.us.